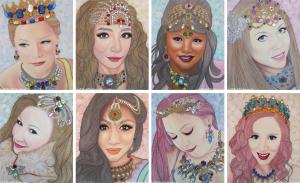 "Bejeweled Beauties"
December 2015
Mixed Media And Gems
On Mixed Media Paper
8" x 10" / each
$425 CAD / each
£250 GBP / each


Back in the Fall of 2015 I was invited to take part in a special exhibition "Art Maze" being held at the historic Oxo Tower Wharf in London, England. I had exhibited in London twice before but this time would be very different. The curator Exhibit Here required all Artists to be present in order to install their work in the gallery. After seeing pictures of the unique venue I KNEW I had to make it to this one in person. With my passport quickly renewed and some money freed up on my loan I was soon purchasing flight tickets for a trip of a lifetime! Seeing as the trip was going to be rather costly for a humble full time artist I knew I had to take full advantage of the experience and create a series specially for this show. I put out a call for UK based beauties, seeing as the exhibit would be in London it seemed right to celebrate the women living in that country, and I was surprised to receive many submissions. Originally I only planned to create six new pieces but these eight women really inspired me so I took on much more than I could chew. Luckily with early mornings, long nights, and full work weekends I was able to finish the series just in the nick of time, the day before my flight to London!

Watch the video of the Exhibition HERE!

Using watercolour paint, pastels, pencil, acrylic paint, and real acrylic gems and gold/pearl mica, I hoped to celebrate each unique women's beauty by staying true to their facial features while at the same time giving each women the opportunity to feel incredibly glamorous! We are so often bombarded with glorious images of stars, models, and royalty but are rarely given the chance to feel like we're among them. I wanted these women to feel like stars, to feel like royalty, for at least one night during the Private Viewing or whenever they look at the portrait. Because in my eyes they are all just as beautiful and glorious and the women we see in the media.