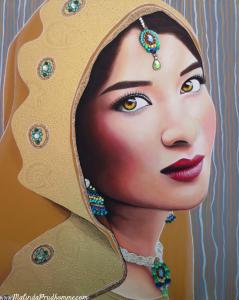 "Golden Indian Bride"
September 2015
Acrylic Paint and
Embellishments on Canvas
16" x 20"


Original Artwork:
$3000.00 CAD
HERE

8"x10" Prints:
HERE

Larger Prints:
HERE


This piece was created in order to celebrate the beauty of Indian Brides. In order to make the piece striking and unique I applied a gold mehndi inspired trim on the veil, gold and pearl mica, and real acrylic gems. But what truly makes this piece mesmerizing is the brides multicoloured eyes which seem to pierce the viewer. This culture and its people are truly beautiful and it is an honour to capture them in paint.


Continue scrolling for close up photos of the artwork and the sparkly gems!