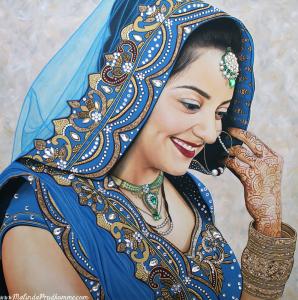 "Mehndi Indian Bride"
February 2016
Acrylic Paint, Oil Paint, Mica,
Pearls, and Gems on Canvas
24" x 24"
COMMISSION


This piece and I have had quite the journey! I remember when my client from Hong Kong first commissioned me to create this painting last February 2015, just over a year ago, I was over-the-moon excited. The piece captures the natural beauty of my client's wife on her wedding day using layers of acrylic paint, washes of oils, and 3D features such as gold pieces, pearls, and gems. There were some fantastic challenges that I knew I'd need to overcome such as the sheer look of the veil, the mehndi on her hand, and the multitude of fine adhered gems, pearls, and metallic pieces. I'm happy to say the results of these challenges have come out better than I imagined! Another challenge was getting the facial features highly realistic, and an exact likeness to my client's beautiful wife, at this unique angle and when the reference image contained many shadows. In the end her true beauty shines through the smooth luminescent washes of oil paint. All of those challenges were inspiring! I figured I could complete it by the original due date in the Summer of 2015 but it wasn't meant to be. A challenge I couldn't predict was that my health would take a bad turn. Though I tried to work on her little by little, the deadline was forced way back. This was the first time in my life that I'd been this tardy with a project or deadline. I was one of those "goody two-shoes" in school that always had homework done on time and to the best of my ability. And that was school, something forced on me that wasn't always fun; when it comes to my art career I'm even more eager and serious about my professionalism and meeting deadlines. It quite literally broke my heart not being able to complete my work. It was a tough year but I won't dwell on it; when I think back I'll remember how I battled through it and spent what time I could on creating this breathtaking portrait! I can never thank my patron enough for his patience. I hope that the piece will bring his lovely wife lots of joy and that the two of them will enjoy the painting for years to come.