June 21st, 2017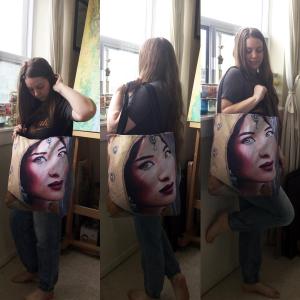 Like most artists I offer a whole variety of items with my artworks on it. With the exception of my Etsy Shop, I depend on outside manufacturers to make the items for my fans to enjoy. I have a Fashion Clothing line with VIDA (currently under re-construction) and a print/everyday item shop with Pixels (also known as Fine Art America). On occasion I will purchase my own items to test out the quality of the products I'm providing. TWO years ago I purchased this beautiful "Golden Indian Bride" Tote Bag from my own print shop and was not disappointed. The image quality is gorgeous and the bag is built really sturdy. It has been my go to bag for all of my running around, including quick grocery runs, since I received it and it's still kicking! I figured since the quality and look of this bag is so great it wouldn't hurt to share my experience. You can get your own Tote Bag with any of my artworks on it at my Print Shop HERE! Happy shopping! :)
April 4th, 2017
Darren and I are very excited to introduce our new #Furbaby boy, TYRION! <3

This sweet little #Cat stole Darren's heart when he went to pick up some food for our big ball-of-love Maverick this past Sunday. He texted me first with a picture of his name thinking it was adorable! If you don't know, Tyrion Lanister is a dwarf with an incredible wit and personality from the novel/TV series "Game of Thrones". It just happens to be one of Darren and I's favourites ... and Tyrion just happens to be one of our favourite characters. After receiving the text I felt I could picture him and almost had a feeling "he's ours". I asked Darren for a picture of him and bam, he was exactly the cat I had imagined. Perfect little fluff bean! I immediately went to the store to meet him and, after seeing how talkative and cuddly and playful and sweet he was, we quickly returned home to apply for our interview. They told us many people loved Tyrion and were considering him for their family so we were a bit on edge. The Toronto Cat Rescue called us within hours and after a lovely and cheerful interview we were given the go-ahead to pick up our sweet baby boy. <3

Here's what we know about Tyrion. He was rescued from a hoarding situation so we are hopeful he will grow to love Maverick. Because he had to fight for food his whole life, he is very teeny tiny. When he was originally seized they thought he was only 1 because he is so small ... little bird bones (sad but so cute too) ... but after the vet neutered him he figured he is more like 3 years old. Our big boy Maverick is about 8 years old, so Tyrion will be the new baby of the house. <3

We bathed him when we brought him home, you can see him drying in the picture, but usually his fur is very fluffy (he's a long haired domestic) and disheveled looking which is so adorable. He's smart, but such a goof when he plays. I think his most charming characteristic is his "singing" or "chit chatting" he does non-stop. A very talkative and cuddly little boy. <3

Tyrion's been with us for 2 days so far and we've already made great strides when it comes to his and Mavericks relationship. Maverick is a big time doufy douf so he just wanted to be friends and play right away. Tyrion was very nervous and there was definitely hissing and "twacking". Maverick's expression was sad but hilarious too. "Parents, why doesn't it like me? Doesn't it see I just want to play? I'm being so gentle and submissive." LOL Maverick is a very good boy. He shows his dominance sometimes by using his size to corner Tyrion. But he just keeps eyes contact, he doesn't to anything physical. It's a conversation they're having with their eyes and it seems very intense but we are seeing improvements fast. We keep Tyrion in the bathroom at night for now (so they both feel safe and have a good rest) and Maverick will "sing the song of his people" to him starting at 5am or so. Eventually Tyrion began talking back and it seemed like a good happy conversation. Yesterday was a bit hit-and-miss but this morning they played together and ate together and seem to be doing really well. They are currently both sleeping on the couch beside me, Tyrion on the seat and Maverick on the head rest. Super super cute and such a relief to see. <3

We're very happy and excited to grow our family! I've been feeling a bit better lately, hopefully it lasts, but this is definitely a good time to introduce a new life into our home. We love him so much already and we know that love will only continue to grow as we get to know him better. Here's hoping Maverick will love him too! <3
January 5th, 2017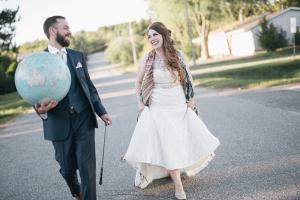 Back in early September, Darren Edward and I tied the knot in our hometown of Sudbury. We wanted to keep our "real"wedding ceremony very private so it didn't make sense having a stranger there to marry us. We decided to get the legal wedding done the day before at Sudbury City Hall so that my younger sister Meagan could officiate our true ceremony the next day. On Saturday September 3rd, 2016 we began the day with setup, then we got ready, then Darren and I did a cute "first look" shoot, then we took some photos in the forest, then we came back to my childhood backyard to gush over each other with our private ceremony, and then we all PARTIED! It zoomed by but man was it fun! And everything turned out exactly how I'd imagined it; better, even! On Sunday we threw a wedding brunch so that all of our extended family members and friends could join in the celebrations! I have a HUGE family so it was absolutely awesome getting to see everyone. Since Darren and I live in Toronto we don't get to see our family very often. The whole weekend was SO special! We couldn't have asked for more.

Of course after the wedding we were very excited to see our photos but had to wait the usual couple of months. When we finally received them we excitedly clicked through them and were overjoyed with the beautiful results. But then my solo show came up, and then the holiday season, so there just never seemed to be time to post them. Well here they are! I hope you love them as much as we do. :D

- Friday September 2nd 2016 ~ City Hall Wedding ~ Northern Lovebirds Photography (Brandon Lefebvre)
- Saturday September 3rd 2016 ~ Backyard Wedding ~ Mirth Photography (Stacey Lalande)
- Sunday September 4th 2016 ~ Wedding Brunch ~ T.L. Photography (Tracey Labelle)

WANT TO SEE A BIGGER COLLECTION?
See them on Facebook
January 5th, 2017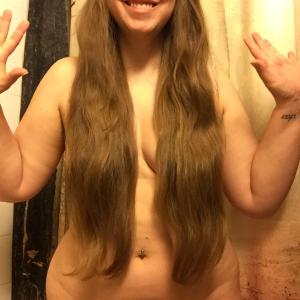 While my photo may surprise some folks, the fact that the most common New Years resolution is to ďloose weightĒ probably doesnít surprise anyone. Lately there has been TONS of posts going around about the holidays making us all fat. Itís a common thing but it drives me nuts. Lately Iíve also seen lots of very young ladies (teens) fretting over their very teeny tiny bodies expressing how theyíve let themselves go Ö it kills me. Itís been years now since Iíve grown to truly love and accept my body exactly as it is in whatever state itís in. I tend to fluctuate between 155lbs and 180lbs; Iím at my highest here in the photo. The only reason I even know my weight is because I weigh myself to tell how much my artwork packages weigh for shipping. LOL I honestly do not care one little bit what the number on the scale tells me and while Iíve gotten used to that idea, the holiday season and all those terrible posts remind me of how painful it was to hate my body and constantly want to shrink and change it. Back then, even if I was doing really well and loosing lots of weight, it was never ever enough. There was always something that wasnít perfect. I no longer believe in ďperfectĒ. I believe in the power of unique beauty. We are all unique creatures with unique bodies and those bodies are doing the best they can to keep us alive and house our beautiful souls. There is no way we should be hating on something so precious. I want everyone to remember that everyone sees beauty in different ways. If youíre judging yourself based on the unrealistic demands and expectations of our society then for goodness sake STOP. YOU ARE BEAUTIFUL. Stop comparing yourself to others or what you see in the media. Just focus on you, focus on the things you love about yourself, realize youíre a unique human being, not some photoshopped version of flawless perfection. NO MATTER WHAT SIZE YOU ARE, you are beautiful! :D

Now I can just hear people crowding to say, ďBut health! But healthĒ! DONíT. Size isnít the be-all-and-end-all of human health. Itís a factor, yes, but not EVERYTHING. Personally, I think being happy mentally, enjoying your body and enjoying your life without shame or dissatisfaction, is WAY MORE healthy than being small and trim. If your New Years resolution is to live a healthier lifestyle that is 100% awesomesauce! Honestly, following through with that would be life changing! But if deep down inside youíre doing it to be thin and stereotypically attractive then I would say, please donít feel that pressure. Getting healthier is great but you donít need to be thin to be beautiful. You are beautiful exactly the way you are. I would also say, I have totally been there, man. I have had countless ďIím going to get thin before summerĒ New Years resolutions. I either failed, which made me feel shitty about myself, or I became unhealthily determined and ate 400cals a day, exercised like a fiend, lost tons of weight, and still felt there were things I needed to improve on. SO NOT WORTH IT. And definitely not healthy! TRULY caring more about health, not even considering your looks because you already love the way you look, will put you in a much better frame of mind to create a realistic health regime that you can stick too and progress at a natural rate. :D

How did this post come about? I have my hair tied in a braid everyday so I didnít realize how long my hair was getting and I excitedly wanted to show off my ďprincess hairĒ with a photo. I started off with closer shots of my belly and hips (where my hair length ends) and found myself (something that hasnít happened to me in a long while) feeling embarrassed by my underwear lines, surgical scars, and my tummy. It felt SO awful! It reminded me of how painful it is to be hard on your body. I figure the numerous posts Iíve been seeing may have had me feeling a little uneasy and with the posts continuing, ďall I got for Christmas was fatĒ, over and over, I felt I might make a post of my own showing most of my body. Because I love my body. I truly do. Underwear lines and stretch marks, PAH! Everyone has those! A tummy? I love my fertile looking tummy. Iím a soft woman and I like that! Iím an Elven Fairy Princess Mermaid gosh damn it! LOLThen I was concerned about other peoples judgments, not about me being thick or thin, I couldnít care less, but about me posting a nude in general. I actually deleted the photo but it kept nagging at me. Iíve lived YEARS without caring what people think, why would I start now? I ended up discussing it with my amazing husband and he encouraged me to see that the potential to help people love themselves is important to me and that itís worth braving the naysayers. How lucky am I to have someone so supportive; someone who truly gets me?! :D

TO ANYONE WHO FEELS OFFENDED, NEGATIVE, OR SEXUAL - KEEP SCROLLING. This post isnít for you. I donít care if the naked body offends you. I personally think nudity is beautiful. Besides, draw a line on either side of my hips and between my breasts and you can pretend Iím wearing a bikini. LOL If you plan on being negative about my body you can save your fingers the typing because I DO NOT care about your opinion. I love my body. My husband loves my body. Your opinion means absolutely nothing to me and if you do leave an unkind comment it will be removed immediately so that your negativity doesnít infect my kindhearted followers who are working towards loving their bodies as they are. Lastly, if you think this is in any way a sexy post you are 100% wrong. This has nothing to with sex; I am not posing in a sexual way or discussing anything sexual, so if you see it that way it sure says a lot about your mind and the respect you have for me (or lack thereof). Wishing you all happiness and positivity in your life! Be kind and be well. :D

November 28th, 2016
BOLD Expressions
Super Wonder Gallery
November 4th and 5th 2016

A couple of weeks before my solo exhibition, "Beauty is Varied", I had the pleasure of exhibiting three of my beauty portraits at Super Wonder Gallery in the BOLD Expressions group show. The show boasted hundreds of artworks in a variety of mediums and capturing a variety of subjects. The curators Tanzina Amin and Carlos Sa Rodrigues did a fabulous job arranging the artworks in a beautiful and meaningful way. I feel so honoured to have been a part of it and to have my work hung alongside that of such talented artists! Not to mention, Super Wonder Gallery is among my favourite galleries in Toronto. It was truly a great night!
October 27th, 2016
2016 ETA Awards
Lead Judge Technical Excellence Category
Friday October 21 2016
District 28

I had an AWESOME night last Friday! Not only was I incredibly honoured to be chosen as the lead judge for the Technical Excellence category, I also had the opportunity to meet and hand out awards with some incredibly talented and successful artists; all of which I have been admiring for a long time. To be up there with the likes of Alex Garant, Richert Ahnert, and Lee Howard is beyond gratifying. And the cherry on top? I got to dress up like XENA! My all time favourite kick ass female warrior princess hero! The theme of the event was "Gala Of Heroes" and we were invited to dress up. You don't have to tell me twice! (lol) It really couldn't have been any better! A big huge congratulations to all the emerging artists who placed and won awards! You guys have got major skills! For those who didn't, don't fret because you were all incredibly talented and with hard work and dedication you will continue to be Thriving Artists! :D
October 27th, 2016
I'm Looking For An Artist Protťgť!

Hi! I'm Malinda! I've been working as an artist professionally for the past six years. The first two years were part-time while working other jobs and the last four years have been full-time. My career began with me experimenting with styles and mediums and doing the usual craft and outdoor shows. But by the time I was ready to take the leap into a full-time art career I had become an established portrait artist being sought after for commissions. The last four years have been a whirlwind of unbelievable experiences and really hard battles. While I was being awarded for the Technical Excellence of my work, exhibiting my artwork overseas, and gaining clients from all over the world; I was also getting sicker and sicker from an unknown illness that had my doctors stumped. This past Spring I finally received a diagnosis of Axial Spondyloarthritis (an auto-immune disease) and though I still suffer on a daily basis I am glad to say my life is beginning to get back on track. At this stage in my career, and with this disease slowing me down, I need someone to help me with the smaller stuff so I can get back to what's most important in my business; creating my beautiful artwork. I'm ready to take this incredible career of mine even further and I'm looking for someone to join me on that journey while at the same time fostering the beginnings of their amazing career! If you're an Emerging Artist who thinks working with a Mid-Career Artist would be a valuable learning experience you've come to the right place! :)

SUBMIT YOUR APPLICATION
www.MalindaPrudhomme.com/Protege
October 14th, 2016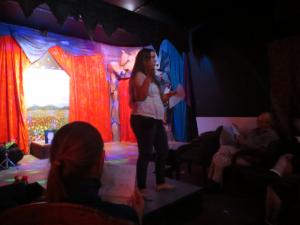 ETA Awards Pre-Show
Lead Judge "Technical Excellence"
Guest Speaker "Business Of Art"
Super Wonder Gallery
Friday September 23rd 2016


I am incredibly honoured to have been given the role of "Lead Judge" for the 'Technical Excellence' category of the ETA Awards​ (Emerging Toronto Artists Awards) this year. I was also asked to be a guest speaker at the ETA Pre-Show event on the "Business Of Art" which was a very nerve wracking experience for me (being very shy and introverted) but I think it went rather well and it showed me I have a lot of valuable knowledge and experience to share. Here are just a few snippets from the night, first of my speech and second of me judging the artworks. I must say that the collection of work being presented at the ETA's this year is MIND BLOWING! The talent in this city is just incredible! I included some of my favourite pieces near the end of the video but I have to admit there were SO many that I loved that I wasn't able to include. Everyone who is a part of this event should be proud of themselves! :)
September 22nd, 2016
MUSE Exhibition
Super Wonder Gallery
September 16 - 21 2016
Opening Reception: Friday Sept 16th


I am SO glad everything worked out and I was able to be a part of this show! The call for submissions was going on while I was frantically preparing for my wedding so I saved the link and set a reminder. But as my wedding date got closer I became more and more busy and didn't get a chance to apply before I left for Sudbury. Luckily the curator, Daniel Anaka, contacting me a few days before the deadline asking if I was planning to apply. I love being in Daniel's shows. My very first gallery exhibition in Toronto was curated by Daniel at Moniker Gallery and he has been a supporter of mine ever since. Not only are his shows filled with talent and garner a large crowd, he also always hangs my work in a way that emphasizes it's beauty and quality. He had mentioned that the MUSE exhibition would be his last at Super Wonder Gallery (a HUGE space on Bloor where I absolutely love to exhibit) so I knew there was just no way I could pass it up. Four of my portraits hung beautifully together, two newer pieces and two from 2013, near the front of the gallery.

I almost didn't make the opening that evening because my health was acting up but after a nap I decided to give it a try. I felt extra cute in my outfit and although I wasn't still quite well I was definitely happy to be there. Sometimes people think if you're smiling you can't possibly be sick. Those people don't live with chronic illness. When you're always unwell there comes a time in your life when you just have to decide not to let your physical mood dictate your mental mood. It's definitely a tough thing to conquer and when times are really tough it's still something I struggle with. But I'm pretty much capable of smiling, laughing, and loving life even if I'm in pain, or nauseous, or exhausted, and so on. I'm not just putting on a happy face ... it might seem like that at first ... but I'm actually happy. That night, I was not feeling great, I had a hard time communicating, but I was happy! The artwork in this exhibition was just breathtaking and to be among such talented artists is always an honour. I also got to speak to some fellow artists I hadn't seen in a while and I got to preview the work of some of the emerging artists I'll be jurying tomorrow (Friday September 22 2016) at the Emerging Toronto Artists Awards (ETA Awards)!

I had my little outfit planned for this exhibition since my wedding. I purchased two book necklaces for my wedding brunch outfit and ended up wearing one that was custom made with special little personal touches. I still loved the other one though and wanted to wear it with the complimentary book earrings I received and my beloved book skirt which I felt matched perfectly! I'm a big book nerd, I agree Kobo's have their place, but nothing will ever be as good as a book in my hands. Especially an old smelling book .... and turning pages ... it's an obsession I know, but a good one I think. If you happen to have a love affair with books too, my necklace and earrings were made custom for me by AV Workshop on Etsy. Svetlana was easy to communicate with, she created the piece very quickly, and it was shipped promptly as well. It was a pleasure doing business with her. My Book Skirt is by Nerd Alert Creations on Etsy. I have worked with Rachel a couple of times now and I am never disappointed. She is very kind and willing to take on all sorts of projects. I know I'll be back in her shop again! What do you think of my outfit? Are you a book lover too?
September 22nd, 2016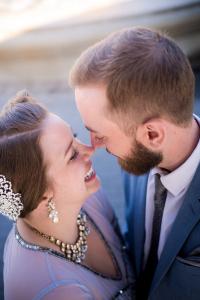 On Saturday September 3rd 2016 I promised to spend the rest of my life loving my best friend in the whole world, Darren Edward. We had been engaged for three years and this gave us lots of time to think about what we really wanted to do for our celebration. In the end we decided on a Private City Hall Ceremony the day before the wedding to make things legal, another Private Ceremony on the Saturday to speak OUR words and promises, a small Party Saturday night, and a nice big Wedding Brunch on the Sunday to celebrate with all of our family and friends. The weekend flew by but it was absolutely perfect and we are SO thankful to everyone who attended and helped make it happen just the way we imagined it. I can't describe how happy I am to have taken this step with Darren and to have so many wonderful new memories with him. He has always loved me just as I am and supported my dreams no matter how difficult or time consuming they may be to achieve. I certainly would not be the full-time artist I am today without him. He makes me happier than anyone in the world could. I am truly the luckiest woman in the world. :)

See the entire album of 88 photos on Facebook -> HERE