October 8th, 2015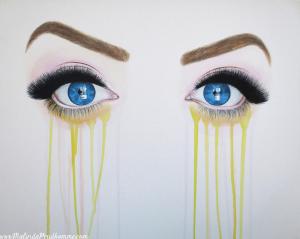 "Sparkling Midnight Blues"
October 2015
Oil And Acrylic Paint on Canvas
16" x 20"


Original Artwork:
$600.00
BUY

8" x 10" Art Print:
BUY

Larger Prints:
BUY


This beautiful Eye Artwork was created as part of a Live Painting project done during a Nuit Blanche exhibition. I am eternally grateful to my stunning local muse Chelsea Collinson who offered her beautiful blue eyes to be painted and attended the event in order to allow me to paint her eyes live. Prior to the event I decided on a soft peach, light purple, and bright yellow/green for the drips. I felt the first two would bring out the warmth in her eyes and makeup while the last would strike contrast against them and really make the blue pop! Using many layers over a week the eyes were built up and during the live painting demo the iris' were brought to life and lashes were added in. When I brought the piece back to my studio I felt the lashes needed even more emphasis so they were elongated and made fuller. I really do believe the piece captures the shape of Chelsea's eyes and her character and I am thrilled with the results of this artwork.

To see a photo of Chelsea beside the piece and some close up shots please continue scrolling!