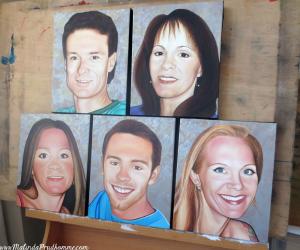 "Family Is A Beautiful Thing"
June 2016
Acrylic & Oil Paint on Canvas
8" x 10" / each
COMMISSION


I am absolutely thrilled to share my newest commissioned project "Family Is A Beautiful Thing" with all of you! When Brian first contacted me to paint a family portrait for his wife I was incredibly honoured. He told me how much they both admire my work and how impressed his beautiful wife Deb is every time I post a new completed commissioned piece. This only further fueled my excitement for the project. In the end we decided on five individual 8" x 10" portraits with soft metallic washed backgrounds. I can't explain how fulfilling it was to finish each piece. The entire process took well over two months so I was quite pleased while putting the finishing touches on the last portrait of their son Sean. I recently heard from the happy couple and it seems Deb really loved her surprise! It is so nice to know that five of my artworks will be bringing this family joy for years to come.