February 21st, 2018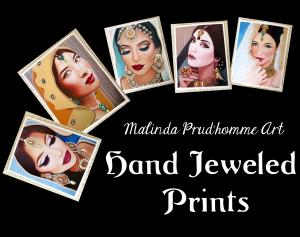 I am SO excited to OFFICIALLY release my collection of HAND JEWELED 8" x 10" Beauty Art Prints! Now everyone can afford a sparkling piece of art! :)

BUY - https://www.etsy.com/ca/listing/595486451/hand-jeweled-prints-embellished-8-x-10

Watch the promotional video ...
Facebook: https://www.facebook.com/MalindaPrudhomme/videos/1602187506484861/
YouTube: https://youtu.be/4nftjOCaMr0

- - - - - - - - - - - - - - - - - - - - - - - - - - - - - - - - - - - - - - - - - - - - - - - - - - - - - - - -

Malinda Prud'homme's paintings that include real acrylic gems are among her fans favourite pieces. She receives frequent inquiries about prices but for many the cost of these time consuming and expensive paintings is beyond their budget. This is why Malinda decided to offer hand jeweled prints! So that those who really love that radiant sparkle paired with beauty portraiture can enjoy a piece of their own at a fraction of the cost. :)

SIZE: 8"x10" paper with a white border for easy framing/matting. It will easily slide into a standard 8 x 10" frame or matte.

SPECIFICS: These prints are reproduced from original paintings by Mixed Media Artist Malinda Prud'homme. They are printed in-studio on Supreme Satin photo paper which has a lovely weight, a flawless velvety smooth surface, is tear resistant, curl resistant, and fade resistant. The artist will adhere real acrylic gems to the print by hand. She will choose in the moment what gems to apply as the print is not completely covered. While she will NOT be copying the gem patterns exactly as seen in these images, she will stay true to the amount of gems portrayed. Prices will vary based on the amount and colour of gems. Every portrait comes with either the colours shown in the photos, all crystals, or crystals and aurora borealis (multicoloured shimmer - AB) crystals. You can make your selections using the drop down lists.

All prints are signed by the artist at the bottom of the print.

SHIPPING: The print will be sent in a 100% recycled hard cardboard Mailer.

Please remember that this image is copyrighted & not to be reproduced for any purposes without permission from Malinda Prud'homme. Purchase of this print does not transfer any image rights.

For more images and information please visit
www.MalindaPrudhomme.com
www.Facebook.com/MalindaPrudhomme
www.Instagram.com/MalindaPrudhomme
www.MalindaPrudhomme.Blogspot.com.